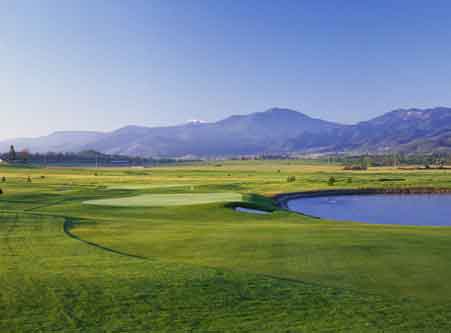 PLAY UNLIMITED GOLF AT
CENTENNIAL GOLF CLUB
Join the Presidents Club
No Initiation Fees! No Dues! No Assessments!
No Driving Range Fees! No Food Minimums!
Unlimited Green Fees for a year and a ton of other great benefits, such as:
Now including green fees at Quail Point (tee time reservations 5 days in advance)
Monthly payment option available for individuals, couples, and families (increase in rate-see shop for info)
Charge privileges available; leave a credit card on file and we'll bill you
Unlimited rounds of golf for members of the Presidents Club ($14 car fee will apply; annual golf car rental fee available)
Unlimited accompanied guest rounds at preferred rates (3 guests per day): $40 Monday-Thursday; $45 Friday-Sunday and Holidays*
Tee time reservations up to 14 days in advance.
Complimentary use of the Members Only Practice Facility
Complimentary Centennial Hat
OGA GHIN Handicap
20% off all non-sale Softgoods (apparel) merchandise items in the golf shop
10% off all non-sale Hardgoods (clubs, balls, shoes) merchandise in the Golf Shop
OB Sports Traveling Benefits, offering preferred rates at participating OB-Sports -managed facilities and affiliate courses, including:
OREGON

Quail Point - Medford
Langdon Farms - Aurora
Sandpines Golf Links - Florence
Tetherow Golf Club - Bend

CALIFORNIA

Cordevalle - San Martin
The Golf Club at Moffet Field - Mountain View
Tijeras Creek Golf Club - Rancho Santa Margarita
Monarch Beach Golf Links - Danna Point

COLORADO

Colorado National Golf Club - Erie
Heritage Eagle Bend - Aurora
The Fox Hill Club - Longmont

NEVADA

Angel Park Golf Club - Las Vegas
The Legacy Golf Club - Henderson
Stallion Mountain Golf Club - Las Vegas
Las Vegas Golf Club - Las Vegas
Painted Desert Golf Club - Las Vegas

ARIZONA

Arizona National - Tucson
ASU Karsten Golf Course - Tempe
Continental CC - Flagstaff
Chapparral Pines - Payson
Eagle Mountain Golf Club - Fountain Hills
El Rio Golf Club - Tucson
Fred Enke Golf Club - Tucson
Golf Club of Vistoso - Oro Valley
Longbow Golf Club - Mesa
McDowell Mountain Golf Club - Scottsdale
Palm Valley Golf Club - Goodyear
Papago GC - Phoenix
Pinewood CC - Munds Park
Randolph Park GC - Tucson
Sedona Golf Resort - Sedona
Silverbell GC - Tucson
Stone Canyon - Oro Valley
The Rim Club - Payson
Tatum Ranch Golf Club - Phoenix
Chaparrel Pines - Payson
The Rim Club - Payson
AND MORE: Visit www.obsports.com/travel
PRESIDENTS CLUB PRICING
INDIVIDUAL

COUPLE

FAMILY

ANNUAL COST

INTERMEDIATE (39 & Under)

$2,600

$2,100

$3,600

$2,900

$3,600
Plus $100
per Child

$2,900

Optional Annual Golf Car Rental Fee

$600

$900

$1,200
Annual cost is subject to change. Presidents Club benefits are valid for one year from the date of completed purchase.
Monthly payment options for individual, couple and family available with a one year membership commitment.
* All guest green fees and Presidents Club fees are subject to change.
RESERVE YOUR PLACE IN THE PRESIDENTS CLUB
CALL TODAY: 541-773-4653