Group Outings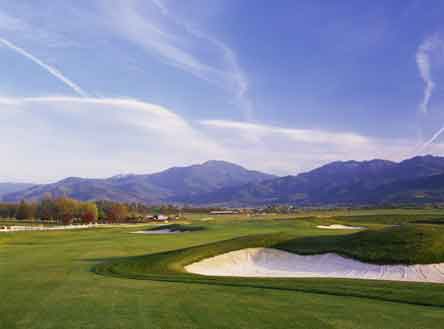 Centennial Golf Club has elevated the standard of golf group outings in Southern Oregon. The combination of spectacular golf, dramatic views and expert tournament coordination will ensure that your next special event, group outing, or tournament is a cut above. This new facility boasts 18 holes of stunning golf designed by two time PGA Tour winner and 1977 US Amateur Champion, John Fought.

Professionally managed by Scottsdale-based, OB Sports, Centennial Golf Club offers extraordinary group services and an exceptional value. Leaving nothing to chance, our expert event coordinators will work with you hand in hand to create and execute a successful and memorable event that will exceed your participants' expectations.
Group and tournament green fee rates vary depending on the amount of players, season, time of day, etc. For a specific golf group outing or tournament quote CLICK HERE.
CLICK HERE to complete our on-line request for proposal
All Group Events Include:
Green Fees & Golf Car Fees
Advance reservations (up to 1 year in advance)
Unlimited use of the practice facility prior to play
Personalized cart signs on your golf cars prior to play
Welcome letter and local rules sheet with the event's name
Pairings and alphabetical lists
Pre-printed contest signage (closest to the hole, longest drive, etc)
Assistance in special event set-up on the course
Other miscellaneous group coordination as needed
Additional Options:
Professionally designed scorecards/scoreboards for tournament results
Post-tournament prize distribution
Merchandise & Gift Certificates
Golf Instructional Clinics
Hole-In-One Insurance
To host your next group outing, tournament or special event at Centennial Golf Club
Call
Chris Daggitt at 541-773-4653
OR
CLICK HERE to request a proposal!

We look forward to the opportunity to exceed your group's expectations!
Centennial Golf Club welcomes all outings and looks forward to the opportunity to host your event.
Group Checklist
Tournament Coordinator's Checklist
Compliments of Centennial Golf Club
First Things First
Choose the date of your event
Assess your food & beverage needs and estimate the number of players expected
Submit deposit and a signed contract to your Centennial Golf Club Tournament Professional
6 to 8 Weeks Prior To Your Event
Assess your merchandise needs for Tee gifts (Shirts, golf balls, yardage guides) and Tournament prizes (Merchandise that will require custom logos will take approximately 4-6 weeks to be delivered)
Determine your staff and volunteer needs
Order banners, hole sponsorship signs, and hole-in-one insurance (if needed)
Keep Centennial Golf Club updated on estimated number of players
4 Weeks Prior To Your Event
Choose your menu and finalize food/beverage contract
Submit final player and payment to the course
3 Weeks Prior To The Event
Communicate the following to our professional staff:
Format of your competition
Hole-in-one insurance needs and prize information
Special needs for sponsors or volunteers
Needs for registration (# of tables, location, etc.).
Gift Certificate needs and Closest to the Pin or Long Drive requests
Send sponsor signs to course and discuss placement of signs.
2 Days Prior To Your Event
Send a player listing/pairings sheet to the course by e-mail or fax. An Excel spreadsheet is the preferred method for player listings. Communicate any changes or questions you may have.
Day Of Your Event
Deliver any signs, banners, prizes or hole-in-one cars that need to be pre-staged the evening prior for an A.M. event and at least 3 hours prior to a P.M. event.
Allow ½ hour prior to your start for registration for every 40 players (e.g. 2 hours for 140 players, 1 hour for 80 players). Communicate any last minute changes to the golf course tournament coordinator.
During Your Event
Relax and have fun! Let our team of tournament professionals take care of your group's every need!
After Your Event
Remember to pick up any left over prizes, banners or signs
Select your dates for next year's event at Centennial Golf Club!